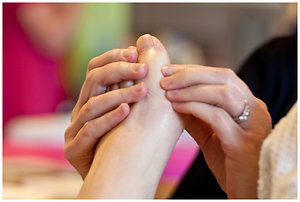 The Top 10: I never knew reflexology could help that...
Click here to read some reviews

10
BEREAVEMENT "I originally planned to visit a reflexologist because of plantar fasciitis, but during my consultation, I told Pippa that I had lost my twenty-year-old daughter a few years earlier. She showed great empathy to me and held my feet in such a way that I felt supported and less isolated. I have had several sessions and felt the sadness become less intense." GE.

9
POST-VIRAL FATIGUE "I suffered with a dreadful chest infection in the autumn and couldn't shake off a weak, achy feeling all winter. I work in town so would be off sick and wanting to book in immediately with Pippa and she always made sure she could fit me in. It boosted my energy levels every time and kept me going." CJ.

8
CHILDREN "My son has monthly reflexology sessions and over time, I am certain they have helped with tummy pain, ear problems and also with anxiety. He now really looks forward to his treatments and is not happy if he ever misses out." RB.

7
DIGESTION "I have suffered from bad indigestion which I think is a symptom of stress and this has been relieved greatly after treatments. It is a wonderful therapy and I thoroughly recommend it." LG.

6
KNEES "Pippa worked at the secret areas to ease the pain in my knees - brilliant! My knees felt like they used to and felt lighter - it was a revelation." AD.

5
ASTHMA "My son suffers bouts of debilitating asthma. Pippa has worked both his hands and feet in such a way that the tight, restricted breathing eases and I notice him become much calmer. He uses an inhaler but the reflexology is essential alongside it and I'm so grateful when his suffering is reduced." PC.

4
SLEEP "I rarely get a decent, refreshing night's sleep but after a session of reflexology I experience wonderful, deep sleep. I find I really look forward to my monthly treatment." EW.

3
MENOPAUSE "I have been a client of Pippa's for almost 10 years and she has helped me with a hectic work/life balance and more recently with menopausal symptoms. As a reflexologist, she knows exactly what areas to work to reach the hormonal points and I feel my symptoms have been very much under control because of my regular sessions." LJ.

2
FERTILITY "Pippa helped me during IVF. I had had 3 failed attempts, but after finding Pippa and reflexology, the next attempt worked. She then saw me during my pregnancy which was amazing in helping me look after myself during the pregnancy and of course to keep me calm. I went through IVF again for my second child, the success was instant. My true belief is that the relaxation is a very big part of its success." AB.

1
AN ENDLESS TO-DO LIST, aka STRESS "I have been having reflexology at Life and Sole for about 10 years. I have always received a consistently excellent treatment. Pippa is very skilled at reflexology and has an amazing ability to tailor the treatment to my needs on the day." HH.